31 March 2014
SEYCHELLES : Curtain-raiser tournament finals: Hawks retain title, HotShots new champs
PLS Hawks defended their Curtain-raiser title on Saturday at the Victoria Gymnasium in front of a large crowd by defeating Baya 73-57, while Mont Fleuri were unlucky once again this year as they lost 45-50 to HotShots.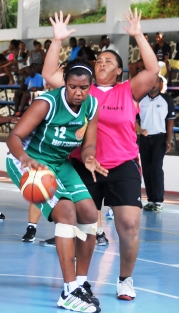 HotShots edge Mont Fleuri
In Saturday's women's final, last year's runners-up Mont Fleuri met HotShots who defeated 2013 winners Anse Etoile Stars in the semifinal.

HotShots looked a little unsure during the first quarter which ended in Mont Fleuri's favour with a score of 11-8, but the players of coach Philip Arissol started stronger in the second and managed to outscore Mont Fleuri. They scored 17 points and Mont Fleuri got 12 to lead 25-23 at half-time.

Mont Fleuri started the third quarter with a 3-pointer by Williana Dubois, but the score stayed close as HotShots led 38-36 at the end of 30 minutes of play.

With victory on their minds, the HotShots players made sure of committing fewer mistakes and scoring more baskets to win the fourth quarter 12-9 and the game 50-45.
HotShots' Tina Agathine led all scores with 13 points.
HotShots coach Philip Arissol said he is happy with how his players performed although they did not work out their plays as they should.
"The Curtain-raiser tournament has given me the opportunity to see what I have to work on for the league championship which is to start soon," added coach Arissol.
As for his counterpart Tony Juliette he had this to say: "Our defence wasn't good. What we worked on in training we did not implement during the game, and we did not perform the plays we worked on."
Commenting on Mont Fleuri losing the Curtain-raiser final for a second year in a row, coach Juliette said this tournament is a preparation for the league championship.
"I'm confident Mont Fleuri will do well this season," he added.

PLS Hawks retain title

PLS Hawks are once again the winners of the pre-season Curtain-raiser tournament. If they narrowly defeated MBU Rockers 96-91 in last year's final and eliminated them in the semifinal this time, PLS Hawks earned a comfortable 73-57 victory over Baya in Saturday's final.
Baya's Marcus Victor scored the first basket of the game and Timmy Adam had a good start, scoring eight points including a two-handed slam on an alley-oop in the first quarter, but their team trailed 14-19.
Hawks began the second quarter with a strong defence, whereby they forced Baya to make a number of turnovers which they turned into basket as Baya failed to score for nearly seven minutes.
Although Baya scored 12 points in the final three minutes of this quarter, PLS Hawks were much stronger and they led 33-26 at half-time.
PLS Hawks stepped on the accelerator in the third quarter as Baya looked disorganised with stray passes. As coach Clifford Joubert gave most of his players playing time, Baya were lost in confusion and they were outscored 21-10 (54-36 after 30 minutes of action).
Baya tried to bring the game to the Hawks and closed the game to 10 points but this is the best they could do although their supporters brought their vocal support.
Although Adam got 10 of his team's 21 fourth-quarter points, it was too little to stop them from losing as the Hawks got 19 to win the 73-57 to send their fans in raptures.
PLS Hawks' veteran power forward Jim Domingue felt that his team played well and were able to destabilise Baya early in the game.
"Although we started training a bit late for the tournament, we were still able to defend the title which shows that all the players worked hard. PLS Hawks are looking forward to the 2014 league competition, and we know that all the other teams will be looking to bring us down," said Domingue.
Baya's coach Michel Malbrook said his players lost the game because they weren't consistent in defence and attack.
"We were unable to score easy lay-ups and free-throws and it cost us dearly in the end. The 2014 season is going to be a tight, competitive season, and that's why I feel that we need to work on all aspects of our game in order to be ready to challenge for the titles on offer," said coach Malbrook.

Adam finished as the game's top scorer with 26 points.

The cups were handed out by Social Affairs, Community Development and Sports Minister Vincent Meriton in the presence of National Sports Council chief executive Giovanna Rousseau and Seychelles Basketball Federation chairperson Sheila Ah-kong.