13 August 2013
SEYCHELLES : Dawgz take a bite out of Baya's title chances, Stars show championship pedigree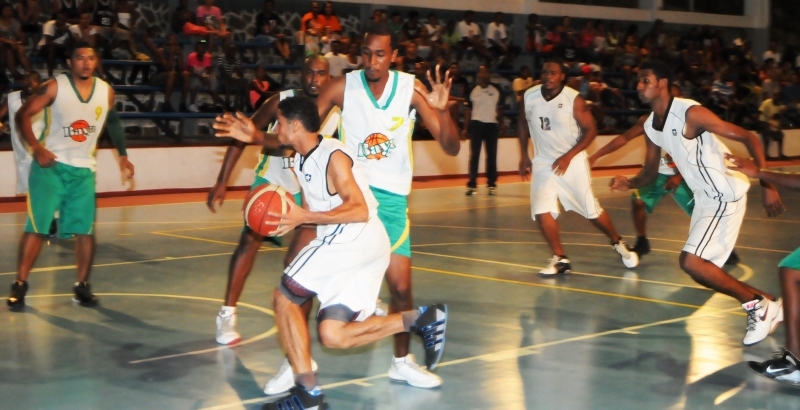 Baya's chances of capturing the men's division one league title suffered a set-back as they suffered defeat at the hands of Mont Fleuri Dawgz, while Premium Cobras won a hard-fought game against Drifters.
Dawgz and Baya met on Saturday in the game of the weekend at Victoria Gymnasium and they did not disappoint those who were in attendance.
The game started off well for Baya as they took a six-point lead after the first quarter of play – 18-12. Dawgz came out stronger in the second quarter and fought hard to outscore Baya 15-17 and reduce the gap to four points – 33-29 at half-time. The third quarter was where it all went wrong for the boys of coach Michel Malbrook as they fell behind, losing 15-22 as their opponents opened up a three-point lead – 51-48 – ahead of the final quarter.
Baya's Timmy Adam scored 11 of his game-high 23 points in the fourth quarter, but it was not enough as even though Baya won it 21-19, it was a case of too little too late as they suffered a demoralising 69-70 defeat against the ever-improving Dawgz. Steven André led the scores with 13 points for the Dawgz who lost centres Brian Agricole and Yannick Rose through injury.
Drifters provided a stern test for Premium Cobras on Sunday but they failed to overturn a large first quarter deficit which cost them the game.
The Cobras took an early 13-point lead in the first quarter which ended 27-14 in their favour. Drifters responded by winning the second 19-14 before losing the third 18-20.
At this point, the Cobras looked on course for victory and they won the fourth 10-minute spell 24-22 for an 85-73 win.
Had Drifters not taken too long to get into their stride in the early stages of the game, it could have been a much closer final score.
Ervin Agathine had 30 points for Drifters and was joint top-scorer with Cobras' Amadou Sylla.
In Sunday's other men's division one match, Brian Morel scored 23 points to lead MBU Rockers past winless RC Dynamic on an 88-45 scoreline. Emmanuel Larue scored 14 for Dynamics.

In a men's second division match played during the weekend, Wolf suffered a heavy defeat against promotion hopefuls Praslin Warriors. The final score was 77-27, with Jackson Auguste leading the scoring for the Warriors with 24 points. Stephen Roseline led Wolf with seven points.

Meanwhile, reigning female player of the year Jana Malbrook scored 24 points for Anse Etoile Stars who look set to retain their league title after keeping their 100% record alive with victory over rivals Mont Fleuri.
The game was a closely fought contest where Stars had the first word winning the opening quarter 18-12. Mont Fleuri came out stronger in the second which they won 17-14.
Unfortunately for Mont Fleuri they lost their momentum in the third quarter and they fell further behind as Jana Malbrook scored 10 points to help her team fly past their opponents with a 24-10 score.
The Stars had opened up a 17-point lead and even though Mont Fleuri fought back to win the final quarter 19-10, the damage had already been done as they lost the game 58-66.
Jana was helped in attack by her mother Simone Malbrook with 15 points, while Bernadette Songor scored 18 for Mont Fleuri.

S. N.