24 April 2013
SEYCHELLES : Stars, Cobras collect easy wins
Women's champions Anse Etoile Stars and Premium Cobras collected easy wins at the weekend, while MBU Rockers rebounded from two consecutive losses to PLS Hawks to edge Baya.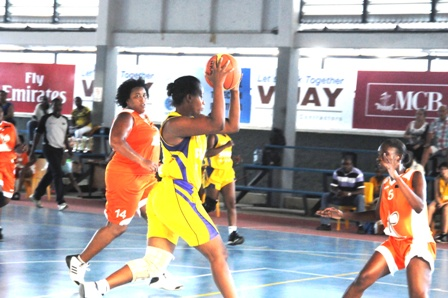 In the men's division one, Premium Cobras outscored RC Dynamics by 30 points to claim a 79-49 win. Dan Come led the scoring for Cobras with 16 points, Amadou Sylla added 15 and Michael Jean chipped in with 12 as they outscored Dynamics in all four quarters – 22-15, 22-12, 21-9 and 14-13.
Keneth Domingue led the Dynamics with 16 points.
This was Premium Cobras' second win in as many matches after edging Angels 66-63 in their first game, while Dynamics suffered a second loss in a row after losing 43-66 to Baya in their first game.
Ervin Agathine netted 13 of his game-high 21 points in the final quarter but they weren't enough to prevent Drifters from losing 58-73 to Mont Fleuri Dawgz.
The Dawgz, who dominated the first three quarters 18-14, 27-14 and 12-9 before losing the fourth 16-21, were led by Sergio Ah-Kong and Steven André with 11 points apiece.
Anse Boileau-based Drifters have now lost their second game in a row after losing 68-89 to Beau Vallon Heat in their first match.
The game between Baya and MBU Rockers was a very tight affair and the Rockers eventually won by a mere two points. The final score was 71-69 as the Rockers celebrated their first win in the league following an 83-91 loss to defending champions PLS Hawks in their first game.
Pascal Bibi had the hot hands for the Rockers with 20 points, while Daniel Hoareau scored 16 and playmaker Nigel Sinon added 14.
Centre Timmy Adam scored 15 points for Baya who had three other players – Dave Roseline, Faizel Naiken and Alex Baron – finishing with 10 points each.
Meanwhile, in the men's second division, Razors cruised past Wolf 89-48 winning all four quarters in the process, while AAP Brothers lost to Cascade Bullets on a 45-66 score.
In the women's league, Simone Malbrook and Magdeline Julienne scored 15 points each to help Anse Etoile Stars earn a 102-29 victory over Juniors.
Reigning female player of the year Jana Malbrook added 13 points for defending champions Stars who have already won the Curtain-raiser title this year.
The Stars dominated all four quarters 30-6, 21-9, 30-5 and 23-9.
The match of the day – Sunday – though was between HotShots and Mont Fleuri. HotShots battled hard in the final two quarters to outscore the Mont Fleurians 37-33, but their opponents had already done the damage in the first half which they won 38-18 (20-12 and 18-6).
The final score was 71-55 in favour of Mont Fleuri who were led in scoring by Lindy Morel and Agnes Bristol with 16 and 14 points respectively.
Sheriffa Agathine led HotShots in scoring with a game-high 24 points.
S. N.