22 May 2007
SEYCHELLES : Agrippine shines in debut for MBU Rockers
AFTER spending 16 months away from the court, Cyril Agrippine re-appeared as rocker to steer his new team to a 78-39 victory over SMB Razorbacks on Sunday at Victoria Gymnasium.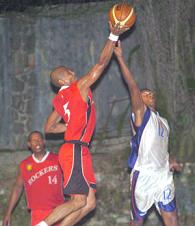 Barely two weeks after starting training with MBU Rockers, the ex-Premium Cobras and Seychelles swingman is already a favourite with the team and coach Alvin Alcindor had no problems inserting him in the starting five. Agrippine finished as the match's top scorer with 19 points, including four treys.
MBU Rockers started the match on a very high tempo and they took an early 16-6 lead. Their well-coordinated zonal defence caused a lot of problems to SMB Razorbacks whose defence was disorganised.
Even after a time-out by coach Pascal Fostel, SMB Razorbacks could not put their game together as the Rockers won the first quarter 22-8.
In the second quarter, matters got worse for SMB Razorbacks as they scored only eight points compared to 21 for Rockers who went for the break with a 43-16 lead.
With such a big lead, MBU Rockers' coach Alcindor gave his bench players some playing time and they added to the Razors' misery, widening the gap from 27 points to 32 at the end of the third quarter – 59-27.
In the fourth and final quarter, SMB Razorbacks managed to score 12 points whilst MBU Rockers added 19 to conclude the match on a 78-39 score.
According to MBU Rockers' veteran power forward Gonzague 'Loupi' Agrippine, the arrival of Cyril Agrippine has been a boost to the squad.
"Cyril is an all-rounder and he can help in every department of the game. He is an experienced player who can help the younger members of the team. He is also always aware of what is going on around him and what needs to be done to carry the team to victory," explained 'Loupi'.
"Performance-wise, Cyril has been training with us for only two weeks and has adapted quite well to our plays and I think that with more time he will perform better," he added.
In the other Men's division 1A match played last Saturday, PLS Hawks defeated Cascade Bullets 91-53.
Centre Rodney Lozé had the hot hands for the Hawks with 25 points whilst Kenny Barbé was the Bullets' top scorer with 19 points.
In the Women's league, HotShots trounced inexperienced Cadettes 109-4. Forward Myra Solin led HotShots in scoring with 40 points.

R. D.
Results of other matches played recently
Women's League
Mont Fleuri 45 RA Sisters 32
Juniors 63 Cadettes 18
Hot Shots 59 Mont Fleuri 49
Bel Air 45 Juniors 36
Men's division 1A
Angels 91 Pointe Larue Falcons 83
Men's division 1B
RC Dynamics 64 Bel Air Blazers 42
Juniors 53 Beau Vallon Heat 49
Praslin Warriors 61 Anse Etoile 50
Anse Etoile 59 RC Dynamics 49
RC Dynamics 62 Juniors 56
Men's division 2
Mont Fleuri Dawgz 85 Baie St Anne Dawgz 54
Fire Brigade 45 West Coast Kings 35
AAP Brothers 53 West Coast Kings 50
Fire Brigade 56 LMS Youth 54
RA Herons 62 AAP Brothers 59