26 December 2005
SEYCHELLES: Charity match
THE turnout wasn't that good but on the court, the players enjoyed themselves and at the same time entertained the small crowd.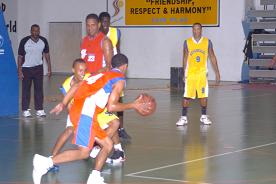 The charity match was played at the Palais des Sports Saturday December and organised to raise funds for former Seychelles and Premium Cobras playmaker Nigel Ah-kong who has been struggling to regain full fitness after an illness.
The match was played between two mixed selections. The local selection was made up of players like Cyril Agrippine, Lenny Aglaé, James Beier (Premium Cobras), Barry Baron, Jim Domingue (PLS Hawks), Steven Servina (Angels), Jean-Paul Camille (SMB Razorback), Dave Roseline (Baya), Daniel Hoareau and Nigel Sinon (MBU Rockers) to name a few.
Ugoh (Baya), Stephen Omony (PLS Hawks), Reuben Kolawole, Mohammed Ozegya Buhari (Premium Cobras), four of the five foreigners playing for local teams, joined forces with Biko Biong, Giovanni Laval, the Sylla brothers Amadou and Abdel as well as Ah-kong's sons Reggie and Sergio.
They lost 72-76. But it wasn't the score that counted. It was the will to play for a good cause.
During half-time, players from both selections took turns to display their dunking skills.
Despite paying an entrance fee of R15, spectators willingly made financial contributions and according to a spokesperson for the organising committee, R4,000 has been raised.
Speaking to Sports Nation, Steve Hoareau, a member of the organising committee, had this to say:
"For the first time that we organise such a charity match for a former basketballer we are quite happy with the turnout, but we expect it to be better in future."
For his part, PLS Hawks' Jim Domangue said:
"I think it was a good idea to organise such a match, but the turnout was low because people are busy during this festive season. A match between Premium Cobras and PLS Hawks would have attracted a bigger crowd, but I was still expecting basketball fans to fill up the Palais des Sports in aid of a person who has given everything for his country and club."
A member of Nigel Ah-Kong's family said that the former player was too emotional to be present at the match.
He thanked every basketballer and all spectators who contributed generously.
Comments:
tiffany jewelry
,
michael kors outlet online
,
ugg boots
,
cheap oakley sunglasses
,
longchamp outlet
,
ugg boots
,
christian louboutin
,
nike air max
,
polo outlet
,
oakley sunglasses
,
chanel handbags
,
tiffany and co
,
michael kors outlet online
,
michael kors outlet
,
prada handbags
,
uggs outlet
,
oakley sunglasses
,
replica watches
,
ray ban sunglasses
,
replica watches
,
nike outlet
,
louis vuitton outlet
,
uggs outlet
,
kate spade outlet
,
michael kors outlet online
,
nike free
,
prada outlet
,
tory burch outlet
,
michael kors outlet
,
michael kors outlet online
,
ray ban sunglasses
,
longchamp outlet
,
nike air max
,
christian louboutin outlet
,
louis vuitton
,
louis vuitton outlet
,
louis vuitton
,
burberry outlet
,
gucci handbags
,
christian louboutin uk
,
oakley sunglasses wholesale
,
burberry handbags
,
ray ban sunglasses
,
longchamp outlet
,
louis vuitton outlet
,
polo ralph lauren outlet online
,
oakley sunglasses
Post a Comment
<< Home